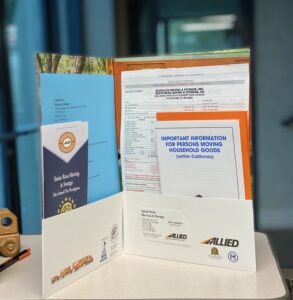 Be Sure Your Estimate is Not a Scam
Before hiring a professional to handle your move, it's important to carefully read the estimate they provide. Too often, people hire movers based solely on the bottom line without considering the charges that are included (or not included) in the price. Since the estimate determines the price you'll pay, it's wise to check and see what you're paying for.
What's in a moving estimate?
Typically, a moving estimate is comprised of an itemized list of services that are included in the total price. Here are a few things you should expect to see:
Transportation
Insurance
Packing
Materials (boxes, padding, blankets, tape, etc.)
Go down the list and take stock of everything that's included—that way, you'll know exactly what you're paying for.
What if my moving estimate isn't itemized?
You should be wary of a moving estimate that doesn't include an itemized list of services. Even if a mover claims that "everything is included" in the total price, you need to know what "everything" means in this context. After all, your definition of "everything" may differ from the mover's, which could lead to problems (and additional charges) later. That's why it's wise to insist on an itemized estimate.
Keep in mind that some moving companies may deliberately neglect to include certain services on their estimates only to foist them on you later. This is a common practice of illicit, "fly by night" movers that's designed to get more money out of their customers. In some cases, these movers have been known to "hijack" their customers' freight until they agree to pay additional charges. That's why, along with making sure everything is accounted for in the estimate, it's important to verify that you're working with a reputable, licensed moving company.
What if something is missing from my moving estimate?
If a line item is missing from your estimate (e.g. packing), ask your mover about it. Did you order packing services? If you don't see it listed, make sure your mover is aware. They may have forgotten to include it in the estimate or forgotten about it altogether. These types of miscommunications can lead to unwelcome surprises on moving day, which is another reason to read your moving estimate in advance.
Compare apples to apples
To ensure you're getting a fair deal, get estimates from three different companies before hiring. This will give you some perspective and allow you to compare apples to apples. Remember, it's not all about the bottom line. If one company is charging $1,000 less than another, there might be a reason for it—perhaps they neglected to include a key service in their estimate. Reading each estimate will help you choose a company that not only charges a fair price but provides all the services you need.
Don't forget about additional services
It's also important to consider any additional services that should be included in your moving estimate. For example, do you need to move any large and/or high-value items (e.g. a grand piano)? Does your move require additional insurance coverage? Will you need short- or long-term storage services? Will you need shuttle service to transport your items from your home or storage facility to the moving truck? These services will add to the cost of your move and should be included in your estimate.
Regardless of the scope of your move, diligence is the key to avoiding discrepancies and superfluous charges. By understanding what's in your estimate, you can avoid surprises on moving day.
For more information on moving estimates or to schedule a move, contact us!