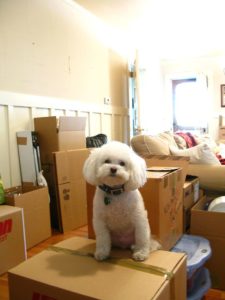 As you make arrangements for your move, don't overlook your pets. Before, during and after moving day, your pets will need extra care and attention. The noise and disruption of moving day can be stressful for some animals. It's not unusual for pets, especially cats, to go missing during the chaos of a move. Below, we've shared five tips for moving with pets.
Make a veterinary appointment a few weeks before your move. See that all of your pets' vaccinations are up to date and that you have copies of their records. If you are moving long distance, most airlines require proof that the animals are up-to-date with their shots.
Consider using a pet-sitter for moving day. Depending on your pet's personality, it may be better off with a pet sitter on moving day. Think about how your pet responds to strangers and loud noises. You dog may be happier frolicking at the park with a trusted friend than at home on moving day.
Some animals require a pet moving service. Aquariums and terrariums can't go on a standard moving truck. If you have exotic pets, such as tropical fish or larger reptiles, a pet moving service can arrange for their relocation. Get in contact with one of these companies once you've finalized your moving date.
On moving day, keep your pet in a closed, secure area. The moving crew will keep the front door open for hours as they transport your household goods onto the truck. If your pet is staying at home on moving day, place it in a bathroom or an empty room. Inform the movers about where the pets are located so that they know to ignore the space. Your pet may object to the temporary loss of freedom, but keeping your pets enclosed will prevent them from getting scared and bolting away.
Be prepared for personality changes. Your pet may act differently on moving day. Even if your pet is generally unperturbed by strange faces and loud noises, the disruption of moving day can rattle even the calmest animal.
Overall, moving with pets isn't always easy, but adhering to these tips can help reduce the stress involved.
Need more information about Santa Rosa Moving & Storage or moving with pets? Send us a message!